Hello everyone after a long break!
I know I've been off again for such a long time, please understand that I have entrance exams coming again this spring so I've been trying to focus on studying. I hope these following icon texture sets will be the kind of stuff you like!
Also, regarding links from my blog to my deviantART
: I got some messages telling that the links from my blog to deviantART the ads but I wasn't aware of the fact that the advertisements could be somehow harmful (except that, I know, it's annoying to click one link again to finally be able to arrive to the actual download link of my textures) because this website I'm using to create shorter URLs seems a trustworthy one.
This is also a way for me to earn money
as I make a lot of textures and get a lot of clicks from people downloading them - so why not make at least little money for all the time I put on these textures?
I am very apologetic though for not asking before if this bothers anyone -
IF it does bother some of you, PLEASE message me/comment on some of the entries and I will replace the links asap
.
Back to the world of textures, here are two brand new icon texture sets for you. Please enjoy!
Set 77 - Novelty on Paper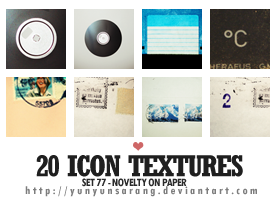 Set 78 - Strikning
(
Collapse
)